The Cobbett Association Past & Present
The Cobbett Association is a not-for-profit corporation and has been designated a public charity by the Internal Revenue Service of the United States. Contributions made to it are tax deductible under Section 503(c) of the U.S. Internal Revenue Code.
-----------------------------------------
Directors & Advisors
Ronald Goldman, Director / Bonita, CA
Vincent Oddo, Director / Glenview, IL
Raymond Silvertrust, Director / Riverwoods, IL
Nicholas Cunningham, Advisor / New York, NY
Sally Didrickson, Advisor / Evanston, IL
William Horne, Advisor / Mill Valley, CA
Bertrand Jacobs, Advisor / New York, NY
Veronica Jacobs, Advisor / New York, NY
Peter Lang, Advisor, Vancouver, BC
Andrew Marshall, Advisor / Grimsby, UK
Keith Robinson, Advisor / Kent, OH
James Whitby, Advisor / London, ON
John Wilcox, Advisor / Edina, MN
The Cobbett Association for Chamber Music Research was founded in 1990 by Robert Maas, an amateur violinist and chamber music aficionado. Mr. Maas' passion was discovering and playing first rate but little-known or unjustly neglected chamber music. Today, in the first years of the 21st century, this represents virtually 99% of all of the first rate chamber music ever written. Nowadays for the most part, all one can hear in concert or on the radio is the

music of the ultra famous: Mozart, Beethoven, Brahms and a few others. But this wasn't always so. As recently as 1950, the music of many others was far better known and the composers themselves were often held to be in the front rank. In any event, during a lifetime of discovery, Mr. Maas became amazed at the number of ignored or unknown masterpieces and first rate works he came across and decided to share his discoveries with those who were interested. To this end, he founded what he christened The Cobbett Association. He chose the name in honor of W.W. Cobbett, a chamber music aficionado like himself who had edited and funded what is probably the most important chamber music reference source ever published in English: Cobbett's Cyclopedic Survey of Chamber Music. In addition, Mr. Maas began to distribute a modest newsletter which discussed some of his "finds." Unfortunately, not long after founding the Association, Mr. Maas was struck down by a severe illness and passed away.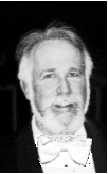 Since 1993, The Cobbett Association has been led Raymond Silvertrust who has served as its President. Mr. Silvertrust, a cellist and life-long chamber music enthusiast, has performed and played both as an amateur and professional. He, too, has spent a lifetime chasing after the music of such composers as George Onslow, Wilhelm Stenhammar, Joseph Rheinberger, Paul Wranitzky, Robert Volkmann, Wenzel Veit, Karl Weigl, Alberto Nepomuceno and literally hundreds of other fine composers.
Shortly after taking the helm, with the help of the Board of Advisors, Mr. Silvertrust changed the focus of the Association and formulated its purpose and goals as follows:
The Cobbett Association is dedicated to the preservation, dissemination, performance, publication and recording of rare and neglected chamber music of merit; chamber music which is no longer in the standard repertoire. To this end, the Association publishes a periodical (The Chamber Music Journal) and maintains a copying library for its members.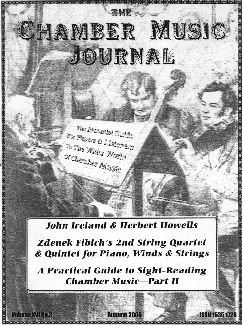 The informal bulletin or newsletter was transformed into a scholarly but also lively and informative quarterly publication which Mr. Silvertrust edits--The Chamber Music Journal. It is the only periodical devoted exclusively to non-standard, rare or unknown chamber music of merit. (i.e., not Beethoven, Mozart, Brahms etc.). In less than 10 years, it has become one of the leading chamber music reference sources and has begun to achieve the kind of influence that Schumann's Allgemeine Musikalische Zeitung once had during the 19th Century. Since the first issue, articles have appeared in The Chamber Music Journal with information that has been published nowhere else-- For example, the critically acclaimed 13 part series, the only study anywhere in any language, of the 36 string quartets of the important 19th Century French composer George Onslow. Other issues have featured in-depth articles on the chamber music of Borodin, Respighi, Saint Saens, the piano trios of Richard Strauss, the chamber music of the Terezin Composers, Joseph Rheinberger, Eric Zeisel, Max Bruch, Willem Pijper, Zdenek Fibich, Glazunov, Edmund Rubbra, Luigi Cherubini, Wilhelm Stenhammar and many more. Players, performers, listeners and scholars cannot find this information anywhere else.
We also possess a large library of non-standard chamber music works. Shortly after Mr. Maas' death, the Association acquired his library which consisted of nearly 900 chamber music works. Since then, over 400 new works have been added to the collection. The bulk of the library consists of photocopies which Mr. Maas made of works which were long out of print and copyright. Our library is a copying, not a lending, library. Its purpose is to provide copies of chamber music works for our members which are out of copyright and not in print. It is housed and maintained by the University of Western Ontario, located in London, Ontario in Canada.
The Cobbett Association also offers a research and locator service. We help our members find works for which they are looking. Many out of print works can only be found in libraries, some of them private. Even works in print are often only available from a few shops. We are fortunate to have two of the finest music shops in the world among our members--Broekmans en Van Poppel of Amsterdam and Performers Music of Chicago. Both of these shops help our members to obtain in print but hard to find chamber music. Our research service answers questions for our members about such things, for example, as whether a particular composer wrote, say, a piano trio or what music is there for clarinet, viola and piano.
Our members consist of professional and amateur players, of listeners and scholars and of libraries. Among them, to name only a very few, are members of the Miami, Guarneri, Mandelring, Chilingirian, Borromeo and Shanghai string quartets, the Vienna and Philadelphia piano trios and the libraries of Yale, Stanford and Indiana universities and the Library of Congress.